We are less than six months away from the 2018 World Cup in Russia but this blog post is dedicated to the birthday boy Sardar Azmoun.
Azmoun Makes His Mark
I remember back in January 2012, Azmoun scored seven goals in six games for Iran U20 at the Commonwealth of Independent States Cup. Sardar was only 17-years old at that time but his performance immediately got the attention of Iranian football fans and scouts from Russian Premier League clubs.
One year later, Azmoun signed with Rubin Kazan. I was thrilled with Azmoun's decision because he could have played with any top club in Iran but instead he chose to focus on his development while playing against better oppositions in Russia.
Europa League
I was traveling around Europe during summer of 2013 and Azmoun scored his first goal for Rubin Kazan in a Europa League qualifier against Norwegian side Molde on 29 August.
Sardar did not make any appearances for Rubin Kazan in his first year with the squad but it was great to already see him getting on the score sheet.
The 2013/14 season was successful for Azmoun as he scored four goals in fourteen league appearances for Rubin Kazan.
Team Melli Debut
In May 2014, Iran had a training camp in Austria before leaving to Brazil for the 2014 World Cup.
I went to Hartberg, Austria to see Iran play Montenegro in a friendly match on 26 May. It was great to see Team Melli playing at a small venue and I remember calling out to Sardar during pre-game warm-ups.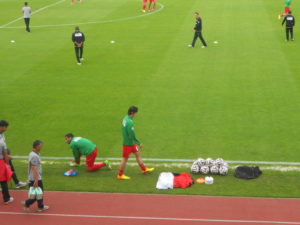 Sardar showed his appreciation and waved back.
Just like many other TM fans, I had been following Sardar since 2012 and it was during that game against Montenegro where Sardar Azmoun made his first ever appearance for Team Melli, the National Team of Iran.
For me it was a special moment to be there for Azmoun's Team Melli debut.
The match ended in a scoreless draw but getting to shake hands with Team Melli head coach Carlos Queiroz and other Team Melli players was an amazing experience.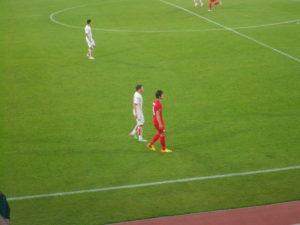 I was upset at myself that I forgot to wish good luck to all the Team Melli players but what can I say? I was maybe a little star struck at that time.
Heartbreak for the Kid from Gonbad Kavus
Sardar Azmoun was selected as one of the players on the 28-man provisional roster for the 2014 World Cup, but unfortunately Carlos Queiroz felt Azmoun wasn't ready to play in the World Cup and thus was not included on the final 23-man roster.
I was disappointed that Sardar was not on the final roster, I really felt he could have played well and been a super sub off the bench but then again I am just a fan and blogger.
The Machine
Azmoun scored his first goal for Team Melli in a friendly match against South Korea in November 2014 and since then he has continued scoring goals whether it be friendly matches, Asian Cup, or World Cup qualifiers.
From February 2015 to May 2017, Azmoun played for Russian side Rostov and helped the squad finish as runners up in 2016 to earn a UEFA Champions League qualifying spot. Azmoun scored two goals in the 2016/17 group phase against Atletico Madrid and Bayern Munich.
Sardar Azmoun is by far one of the best strikers ever to suit up for Team Melli and yet he is only 23-years old. With twenty-two goals in thirty appearances, Azmoun is a machine.
The Hat-Trick in Skopje
It was early June of 2016 and once again I found myself in Europe. I saw that Iran had a friendly match coming up against Macedonia in Skopje on 3 June so I decided to make the trip and try to look official with my brand new Team Melli Talk business cards!
Iran dominated and beat Macedonia 3-1. There were hardly any people at the stadium but it was awesome to see Sardar Azmoun score all three goals.
After the game I made my way to the hotel where the Team Melli players and coaches were staying. I had only been in the lobby for a few minutes and suddenly I encountered Saeid Ezatolahi and Sardar Azmoun.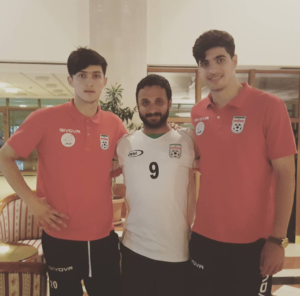 Sardar Azmoun and Saeid Ezatolahi were really cool guys; It was an honor to meet them.
Azmoun was really nice and he had a funny swagger. When I asked him if he spoke English, he responded with "of course."
Sardar autographed my Iran flag but the highlight of the night took place when I wished him good luck in the remaining World Cup qualifying matches.
I thanked Sardar for the autograph but I also told him that seeing Iran qualify to consecutive World Cup tournaments for the first time ever was most important.
I told him, "when you play for Team Melli, you aren't only playing for Iranians in Iran, you are playing for Iranians all over the world."
Sardar Azmoun was appreciative of what I told him and it was the perfect way to thank him for everything he had done for Team Melli.
A Ticket to Russia
On 12 June 2017 Iran beat Uzbekistan 2-0 at the Azadi Stadium in Tehran and booked qualification to the 2018 World Cup in Russia. Team Melli was dominant throughout the match and Sardar Azmoun scored the first goal and assisted the second clinching-goal that was scored by Mehdi Taremi.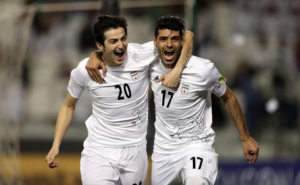 We are less than six months away from the World Cup and I can't wait for that moment to be up on my feet, holding my Iran flag high up in the air, and getting goosebumps when our beloved Team Melli players walk out of the tunnel.
Iran has a tough task being grouped with Portugal, Spain, and Morocco but Team Melli fans must be loud and create an intimidating presence at the stadiums in St. Petersburg, Kazan, and Saransk.
Sardar Azmoun began his career in Russia back in 2012 and he has gone full circle returning to Rubin Kazan in August 2017.
It is my dream to see Sardar score a goal at the World Cup and see him salute the flag he autographed in Skopje.
The football experts and pundits aren't giving Iran much of a chance to advance to the second round of the 2018 World Cup, but if anyone can help Team Melli in Russia, it is Sardar Azmoun, the kid from Gonbad Kavus.