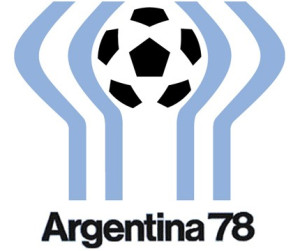 First Round
Group 4: Netherlands, Peru, Scotland, Iran
Netherlands v Iran           June 3, 1978        Estadio Cuidad de Mendoza      Mendoza, Argentina
Iran were making its first appearance in the World Cup and how fitting that their first match was against The Netherlands – runners-up of the 1974 World Cup.
The fans in Mendoza were surprised to see that the Iranians started off playing aggressively and they nearly took an early lead. The Dutch side no longer had Johan Cruyff but they quickly regrouped and played like contenders.
Rob Rensenbrink converted a penalty in the 40th minute to give his side a 1-0 lead. Two minutes after the hour, Rensenbrink scored again to give the Dutch a 2-0 lead.
In the 78th minute, Rensenbrink converted a second penalty to complete his hat trick and give The Netherlands a 3-0 win over Iran.
Scotland v Iran            June 7, 1978    Estadio Chateau Carreras     Cordoba, Argentina
The first half ended in the worst possible way for Iran as defender Andranik Eskandarian accidentally put the ball in his own net with only two minutes remaining in the half.
Prior to this tournament, many beat writers had considered Scotland to be a very strong team but they already underachieved when they were defeated by Peru 3-1 in their previous match.
It didn't get any better for Scotland as midfielder Iraj Danaeifard equalized with a nice left-footed strike in the 60th minute.
Scotland were crushed to only have one point after two matches while the Iranians quickly learned to toughen up after being handled by the Dutch.
Peru v Iran      June 11, 1978  Estadio Chateau Carreras     Cordoba, Argentina
Iran's final match was in Cordoba against the heavily favored Peruvians.
Jose Velasquez put Peru in the lead after only two minutes. Former South American Footballer of the Year Teofilo Cubillas scored from the penalty spot in the 36th and 39th minutes to extend Peru's lead to 3-0.
Iranian striker Hassan Rowshan made sure the Iranian supporters in the stadium had something to cheer about when cut the lead to 3-1 in the 41st minute.
Cubillas completed his hat trick in the 79th minute to give Peru a 4-1 victory over Iran.
The Iranians fought hard in their first World Cup but because of future political events, they would disappear from the world of football for a long time.