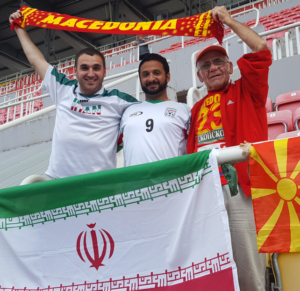 Earlier this week I was in Skopje, Macedonia for the first time ever. When I arrived in Macedonia the officers working in customs wanted to know why I came to Skopje. I wasn't surprised about their concern because for many people it would be weird to go to Skopje just to watch a football match between Macedonia and Iran.
But for me it was not weird because I love to travel and I love watching Team Melli: The National Football Team of Iran. The thought of getting to see a new country, meet new people, and watch the sport I love is what I call exciting.
The match between Macedonia and Iran took place on Thursday 2 June. The whole time I was walking to the Philip II National Arena, I wondered if I would be the only Iranian fan sitting in the stadium.
I got to the stadium nearly two hours before kickoff and naturally there weren't many people in the stadium. I looked around and suddenly saw a man wearing a white Iran shirt. He waved at me to come over to his section. When I got there I suddenly became very surprised when I realized that he was not Iranian.
His name is Dejan, he is Macedonian but has been supporting Team Melli for nearly twenty years. I could tell that he had been supporting Iran for a long time because he was wearing the shirt that the Iranians wore in the 1998 World Cup in France.
In the world of football fans, it is natural to find people from European countries that support Brazil or Argentina because of players like Neymar or Messi. As we all know, there are many national football teams from all over the world that will probably never qualify to a major tournament. It makes sense if someone from Moldova cheers for Italy in the World Cup. But a Macedonian cheering for Iran? Wow, you got to love it!
In regards to historical events, someone may wonder if it is against the rules for a Macedonian to cheer for the descendants of the Persian Empire.
Anyway, staying on the topic. I really appreciated Dejan's passion for Team Melli. We had a good chat about Iranian football. I asked him what sparked his interest in the National Team of Iran and it came as no surprise that he first became a fan of Team Melli because of legendary striker Ali Daei. He told me about the times he watched Ali Daei playing in the German Bundesliga and of course, he talked about the times he watched Iran playing in the 1998, 2006, and 2014 World Cup tournaments.
Dejan is not only a fan of the Iranian football team but he has always been interested in Iranian culture and history as well. It is safe to say that a football match between Macedonia and Iran in Skopje was a dream come true for Dejan.
The match between Macedonia and Iran was not a sellout and therefore only two sides of the stadium were being used by spectators. The side where I was sitting was for the general public but the other side was for the press and friends/family of the Macedonian and Iranian football federations.
Iran had a 2-1 lead going into the interval. At that moment, Dejan suggested we try to go to the other side of the stadium so we could sit with the Iranian supporters and get closer to the players and coaches. I wasn't sure if we would be successful but Dejan was optimistic and told me that he would tell security about me being a tourist and that it would be appropriate for me to sit with the Iranian supporters.
I sure am glad I let him do the talking because it worked. Security let us in and we watched the second half of the match with the Iranian supporters.
The second half was much more fun as we were able to cheer louder and chant with the other Iranian supporters. It was good times and it was really cool to see Sardar Azmoun complete his hat-trick to give Iran a 3-1 win over Macedonia.
We ended up staying longer in the stadium after the referee blew the final whistle. Eventually, we were told to leave but since we were sitting with members of VIP, we had to go through the VIP exit.
Dejan and I found ourselves near the Team Melli bus and we obviously were not in a hurry to leave. While we were waiting, I got the opportunity to interview Macedonian football coach and former footballer, Zoran Smileski.
Zoran – as he is known in Macedonia – actually spent six years coaching football in Iran. He had many great things to say about Team Melli and Vahid Amiri: one of the players he coached during his time at Naft Masjed Soleyman in 2012.
Dejan and I met more Iranian players and took pictures with them as well. Afterward, we made a long trek to the hotel where the Iranian players were staying. It was there where we got to meet and take pictures with Sardar Azmoun and Saeed Ezatolahi.
It was definitely a fun night and one which I will not forget. Looking back, I was really lucky that I met Dejan. Without him, I would not have been able to meet Zoran or the Iranian footballers and coaches. It was an awesome experience. No joke, I owe Dejan big time. Being the humble person that he is, he said I didn't owe him anything.
Earlier when we were talking about Iranian football, Dejan told me that he would like to go to Iran one day. If he does go to Iran, I already know which people will be taking care of him: my friends and relatives who live in Tehran.