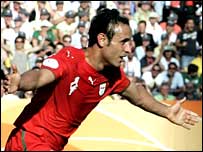 The player in our spotlight this week is Yahya Golmohammadi, former center back for Team Melli.
Golmohammadi played for Iran from 1993 to 2006 and became a mainstay with Team Melli during qualification for the 2002 World Cup.
Yahya was known for his slide tackling abilities and consistent play. He was capped over seventy times for the Iranian national team.
Golmohammadi will always be best remembered for his emotions following Iran's defeat to the Republic of Ireland that eliminated Team Melli from qualification to the 2002 World Cup.
I remember being really disappointed when Iran failed to qualify to the 2002 World Cup.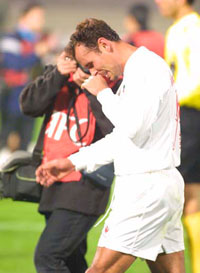 This picture obviously brings back a lot of pain for Iranian football fans, but this picture makes me appreciate Yahya Golmohammadi a lot because he showed so much passion playing for Team Melli.
In 2006, I was at the game in Nurnberg when Iran played Mexico. I jumped for joy when Iran scored, but I went even crazier when I saw that Yahya Golmohammadi scored the goal.
And ironically, it was Golmohammadi's own-goal against Qatar in October 2004 that nearly cost Iran a spot in the World Cup. But things worked out and I am glad that Yahya was able to retire from Team Melli after having played at the World Cup.
To this day I continue to keep up with Yahya's coaching career and he will always be one of favorite Team Melli players.