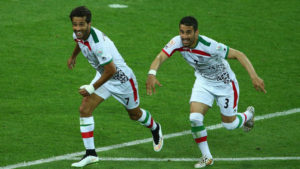 I honestly don't know what to say. I remember in an earlier post I mentioned that Masoud Shojaei and Ehsan Hajsafi wouldn't play for Panionios in a Europa League Qualifier in Tel Aviv against Maccabi but I expected them to play in the return leg in Athens.
They did play in the return leg and then all of a sudden I start reading the reports that they will be banned for life from Team Melli.
This hurts. I really hope these are just false reports and I hope the Iranian Football Federation come to their senses and reverse the ban.
I also worry about the reports that FIFA can sanction Iran due to governmental interference. This is not what we need.
I am not going to talk about politics but the fact is that Ehsan and Masoud did NOT travel with Panionios to Tel Aviv. Plain and simple.
This is frustrating and I hope we haven't seen the last of Ehsan Hajsafi and Masoud Shojaei playing for the National Team of Iran.
It is weird how things turn out. For many years I always thought that Hajsafi didn't belong in TM and I always said that Masoud was overrated.
But all I know is that I will jump for joy the next time I see them playing for Team Melli.