First Round
Group 2

Final Round
The final round would consist of ten teams that would be divided into two groups of five teams.
Group A: Iran, Saudi Arabia, Bahrain, Iraq, Thailand.
Group B: China, Qatar, United Arab Emirates, Uzbekistan, Oman.
The top teams in each group would qualify to the 2002 World Cup in South Korea/Japan. The two second placed teams would play each other in a two leg play-off to determine which team would play against Ireland in a two leg play-off.
The moment I saw the draw for these groups, I was immediately suspicious about China getting an easy group. I right away realized that FIFA and the Asian Football Confederation wanted to attract numerous Chinese citizens to the World Cup in nearby countries South Korea and Japan.
Iran v Saudi Arabia                       24 August 2001                  Azadi Stadium                   Tehran, Iran
Team Melli fans were anticipating this match like crazy because of how Saudi Arabia got the best of Iran in the previous qualifying campaign. Iran were the dominant team throughout the match and the visiting Saudis did not stand a chance. TM fans were expecting great things from this world cup qualifying campaign because they were now coached by Miroslav Blazevic from Croatia; the man who led Croatia to third place at the 1998 World Cup in France.
Iran finally took the lead nine minutes into the second half but there was definitely some controversy involved. Ali Daei fed a through ball to Alireza Vahedi-Nikbakht but the ball was in front of him and it caused Saudi keeper Abu Bakr to come out to no-man's land to dive for the ball. Abu Bakr corralled the ball but the referee awarded a penalty kick for Iran because he believed there was a foul committed and he also proceeded to give Abu Bakr a yellow card. The Saudi keeper could not believe it and after seeing the replay on television, I immediately said it was a bad call. The referee should not have awarded Iran a penalty but nonetheless, Ali Daei converted the spot kick with no problems, the Azadi Stadium erupted, and Iran had a 1-0 lead.
Ten minutes later a move started in the Iranian half went from Hasheminasab to Mahdavikia to Vahedi-Nikbakht and finally to Ali Daei in the Saudi penalty area. Ali Daei was at his best form during this qualifying campaign and patiently waited as he sent a right-footed shot that went past Abu Bakr off the post and into the net to give Iran a 2-0 lead.
Iran won 2-0 and were definitely the better team but deep down I knew the penalty kick should not have been awarded but obviously I was happy Iran got off to the perfect start in their quest to reach the first World Cup in Asia.
Thailand v Iran                        1 September 2001           Rajamangala Stadium     Bangkok, Thailand
After a perfect by beating Saudi Arabia one week earlier, Iranian fans were expecting an easy win over Thailand. Going into this game I wasn't being overconfident because that is not in my nature to act like that but I really felt like Iran should have won. Thailand is not a powerhouse in Asian football but this qualifying campaign would teach me that Iran still had the same problem as in previous qualifying campaigns: inconsistency.
The match ended in a dull 0-0 draw. Some people were using the humidity as an excuse but I was in no mood to make excuses. I was furious because I felt that this game had to be a guaranteed three points after being Saudi Arabia the week before.
I still remember the match fairly well and Iran were the better side but they just couldn't finish or create the best chances. It was disappointing to see Iran drop points because we all know that dropped points can come back to haunt you.
Iraq v Iran                                  7 September 2001           Al-Shaab Stadium             Baghdad, Iraq
Once again this was a very anticipated match considering that it is both a football and historical rivalry. A sellout crowd was on hand in Baghdad and that obviously came as no surprise. The Iraqis showed up to play and they were determined to show that they were a force to be reckoned with in Asian football.
A free kick from Mehdi Mahdavikia found the head of center back Rahman Rezaei but the ball bounced off the crossbar. Minutes later Iraq would take the lead because of a terrible mistake from Iranian keeper Ebrahim Mirzapour.
Till this day I still cannot believe it but Mirzapour took a goal kick in the 20th minute but he didn't get a lot of power on it. Yes, a professional goalkeeper couldn't kick the ball really high and far out of his own half like every other goalie. The ball went to Emad Mohammed and a scramble ensued. Mirzapour came out of his box and tried to make amends for his mistake. The ball found its way back to Mohammed and he kicked the ball over the Iranian defenders and into the net to give a 1-0 lead.
I was extremely pissed off and the rest of the game, Yahya Golmohammadi would take the goal kicks. I approved of that.
Ten minutes later Iran tied it up through Ali Karimi. I was relieved at the time but still fuming about Mirzapour's blunder.
The match went into the interval tied 1-1 and it would remain tied for a long time in what would be an exciting second half.
Six minutes remained on the clock and a long pass was sent towards Ali Daei. The Iranian captain had an Iraqi defender marking him but Daei controlled the ball around the Iraqi defender with his left foot in the penalty area and curled a right footed shot past the Iraqi keeper to give Iran a 2-1 lead.
The match ended in a 2-1 victory for Iran. Team Melli were looking good with seven points after three games and Iranian fans were very ecstatic.
Iran v Bahrain                            14 September 2001         Azadi Stadium                   Tehran, Iran
Iranian fans were expecting an easy win after defeating Iraq in Baghdad but TM laid an egg against the Bahrainis. Another dull 0-0 draw and these dropped points would definitely come back to haunt Iran. TM fans were extremely upset because it was ridiculous that Iran were able to beat Saudi Arabia and Iraq, the two toughest teams in the group but they only picked up two points against Thailand and Bahrain.
Saudi Arabia v Iran              28 September 2001         Abdullah al-Faisal Stadium           Jeddah, KSA
This was a back and forth game that Iran had to make sure not to lose considering the mess they created for themselves.
Abdullah Al-Waked gave Saudi Arabia the lead after twenty minutes when he converted a penalty kick after Sami Al-Jaber was fouled in the penalty area. Mirzapour guessed right but couldn't stop the shot.
Three minutes before the end of the first half, a cross from Mahdavikia went into traffic and was headed home by Ali Daei to tie the game up at 1-1.
Just before the hour mark Saudi Arabia regained the lead through Hasan Al-Yami. Sami Al-Jaber started the move and found Al-Yami in the penalty area. Al-Yami made a nice move past the Iranian defense and fired a left-footed shot past Mirzapour.
The Saudis could have extended the lead but Mirzapour made some crucial saves to keep Iran in the match.
Six minutes remained in the match and Iran looked like they were destined to lose but then a cross from Ali Daei into the Saudi penalty area was headed up in the air. The Saudis should have cleared the ball to safety but instead some miscommunication led to the ball going right to a wide open Sirous Dinmohammadi and he made the Saudis pay for their mistake and tied the game at 2-2.
The Saudi players were furious because they knew they gave that goal to Iran and obviously I was relieved that TM were able to steal a point in Jeddah.
Iran v Thailand                              5 October 2001                  Azadi Stadium                   Tehran, Iran
Just like the last meeting between these two teams, at times it was a dull match. For some reason, the Thais gave Iran problems but all worries to put to rest when Alireza Vahedi-Nikbakht scored in the 32nd minute to give Iran a 1-0 lead.
The Thai players hardly created any chances during this match but TM were definitely satisfied with earning the all-important three points.
Iran v Iraq                                        12 October 2001               Azadi Stadium                   Tehran, Iran
The pressure kept piling on Iran because everyone knew that Iran would be guaranteed a spot in the 2002 World Cup if they won the rest of their matches.
Iran held a 1-0 lead going into the half on a goal that was scored by Mehdi Mahdavikia in the 30th minute but seven minutes in the second half, the Iraqis equalized when Qahtan Drain put the ball into the roof of the net off a corner kick.
With nineteen minutes remaining, the Iranians beat the Iraqi offside trap and Mahdavikia was alone and made an easy to pass to Ali Karimi that was tapped in to give Iran a 2-1 lead and the huge three points.
Bahrain v Iran                          21 October 2001               Bahrain National Stadium             Manama
This was it, this was the last match of the final round. All Iran had to do was win and they would be making travel plans to South Korea/Japan for the 2002 World Cup.
Bahrain were already mathematically eliminated from qualifying for the world cup but before the match they made it clear that their goal was to beat Iran and help Saudi Arabia qualify to Korea/Japan. Saudi Arabia would be playing Thailand simultaneously in Riyadh. A tie or loss for Iran combined with a win by Saudi Arabia would mean that the Saudis would win the group and Iran would have to go through the dreaded play-offs again.
I didn't think much of what the Bahrainis said because I just felt that Iran would be able to win as long as they played to their potential and didn't get thrown off their game.
The match started off in the worst possible way: Bahrain took the lead when Abdulla Al-Marzooqi scored a header off a corner kick in the 8th minute.
I suddenly had a bad feeling but I didn't expect it to turn as bad as it turned out. After Bahrain took the lead, they went on a campaign to fake injuries and waste time. It was ridiculous. When I look back at this game it makes me angry at the Iranian players for getting so frustrated. The Iranians fell for the Bahraini's psychological head games.
Everyone knew Bahrain were not better than Team Melli but their strategy of getting under the Iranian players' skin worked. The Iranian players were upset and weren't able to focus and to make matters worse, Husain Ali gave Bahrain a 2-0 lead right before the end of the first half.
The second half wasn't much better but Ali Daei finally cut the lead in half when he scored with eight minutes remaining in the match. Time was running out.
Iran came through late against Iraq and Saudi Arabia but this time there were to be no late heroics. Mohamed Husain added a third goal in the 90th minute to give Bahrain a 3-1 win.
And of course, Saudi Arabia defeated Thailand 4-1. It was a terrible day. After the match, the Bahrainis committed a disgraceful act when they ran around the field waving the flag of Saudi Arabia. It was their way of laughing at the Iranians and being proud of playing such a dirty match.
At that time, I was mad and extremely fuming. I mostly had anger towards the Bahrainis but very quickly I turned my anger towards Team Melli. I blame the Iranian players the most because they lost their composure. If the Iranian players had had their heads on straight and played smart, they would have won that game. Instead, they did exactly what the Bahrainis wanted: they retaliated, lost their patience, and became angry on the field.
I still dislike the Bahraini national team and I find them classless. It baffles me that a national football team can hate another nation so much that they are content with being classless and losing any kind of self-respect for themselves. If they would have beaten Iran without playing dirty or using their psychological games, I wouldn't have had a problem with them. But if I were given the chance to talk to those players, I would ask them how they were able to look themselves in the mirror.
At that moment I knew it was over for Iran. I knew getting past the United Arab Emirates would be easy but getting past Ireland would be nearly impossible.
Group A Final Standings

Saudi Arabia qualified to the World Cup, Iran qualified to the AFC Play-off
AFC Play-off
First Leg
Iran v UAE                 October 25, 2001                    Azadi Stadium                        Tehran, Iran
TM dominated this match from start to finish despite not having Ali Daei in the lineup. Karim Bagheri scored the only goal of the game with a strike from outside the penalty area at the very end of the first half. Iran won 1-0.
Second Leg
UAE v Iran                 October 31, 2001                    Al-Nahyan Stadium    Abu Dhabi
A full TM squad had no problems with the United Arab Emirates. Ali Daei returned from suspension and scored a fantastic goal from a free kick in the 7th minute. Karim Bagheri added another in the 76th minute which was extremely similar to the one he scored in Tehran one week earlier. Three minutes later, Mehrdad Minavand made it 3-0 with a left footed blast from just outside the penalty area. Iran won 3-0 but a huge test awaited them: the Republic of Ireland.
Iran won 4-0 on aggregate
UEFA/AFC Intercontinental Playoff
First Leg
Ireland v Iran              Nov 10, 2001                          Lansdowne Road        Dublin
A packed house in Dublin definitely was going to be very difficult for Iran. As expected, Ireland were the better side throughout but the first half ended in the worst possible way as Rahman Rezaei committed a foul in the penalty area in the 43rd minute. Ian Harte converted the penalty to give Ireland a 1-0 lead heading into the half.
Five minutes after the restart, Robbie Keane added another to make it 2-0. What was extremely frustrating about this game was that Iran had chances to score. Ali Karimi had a breakaway opportunity but touched the ball too many times and keeper Shay Given was able to make a save. TM would rue their missed opportunities as away goals are always crucial in aggregate play-offs. A 2-0 win for Ireland meant they would go to Iran feeling confident of qualifying to the world cup while the Iranians knew they would have their work cut out for them in Tehran.
Iran v Ireland              Nov 15, 2001                          Azadi Stadium                        Tehran, Iran
Entering this match, TM knew they would have to win 2-0 just to force extra time. Iran were the better team throughout this match but the only problem was that they couldn't score. Irish keeper Shay Given was at his top form and he was extremely hard to beat.
There were times when the Iranians could have made better use of their efforts as each missed opportunity meant that time was running out.
Defender Yahya Golmohammadi finally scored in the 90th minute to give Iran a 1-0 lead. For a moment it almost seemed like maybe Iran would bring back some of the magic from four years earlier.
Iran won 1-0 but Ireland won 2-1 on aggregate and qualified to the world cup. All Iran could do was think about that terrible game against Bahrain in Manama where they lost their cool and composure. Ireland didn't end Iran's hopes of qualifying to the world cup. It was the Team Melli players that ended their chances of going to the world cup with self inflicted wounds.
Everything started off so well with the win at home against Saudi Arabia, the Iranian fans chanted Blazevic's name but the truth is that Blazevic lost control of the locker room. Throughout qualifying, Blazevic assured the Iranian fans and media that TM would qualify to the world cup but he resigned immediately after failing to meet his objective.
When I look back, I remember trying to be as optimistic as possible leading up to the games against Ireland but deep down I knew it would have been too good to be true for Iran to get past Ireland.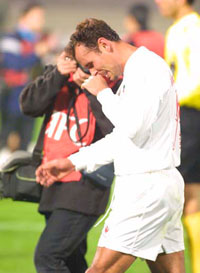 It was sad to hear the reports about Iranian players crying as they walked off the pitch. When I first saw this picture of Yahya Golmohammadi crying, it hurt. But to this day, I actually love this picture because it showed Yahya's passion for Iran and the Iranian supporters. For me, Yahya Golmohammadi is one of my heroes and he will always be remembered by all die-hard TM fans.