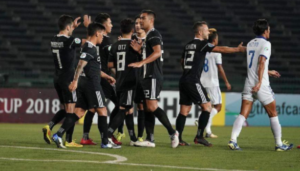 The 2018 AFC Cup is going on and although no Iranian football clubs participate in this competition, I am paying close attention because my good friend Omid Nazari is participating in this tournament with Filipino club Ceres-Negros.
Omid was recently in Cambodia because Ceres-Negros played against Boeung Ket Angkor on 11 April.
Ceres-Negros defeated Boeung Ket Angkor 4-0 and Omid Nazari played the full ninety minutes.
Next up is a home fixture against Singaporean club Home United on 25 April. A win or draw for Ceres-Negros will put them in the zonal semi-finals of the AFC Cup.
Ceres-Negros is currently top of Group F with 13 points while Home United has 10 points. The previous leg between the two teams ended in a 1-1 draw at Jalan Besar Stadium in Singapore.