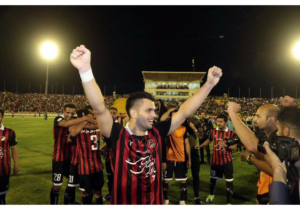 Mashhad – One year ago on the final match-day of the Iranian Pro League season, Siah Jamegan were facing relegation and they didn't control their own destiny.
On 13 May 2016 Siah Jamegan needed to defeat Malavan at home but they also needed the help of Persepolis to beat or tie Rah Ahan.
Siah Jamegan beat Malavan 2-0 and immediately found out they accomplished their mission to avoid relegation as Persepolis defeated Rah Ahan 2-1.
Fast forward to the final matchday of the 2016-17 season and Siah Jamegan found themselves in a similar predicament on 4 May: Siah Jamegan had to beat newly crowned IPL winners Persepolis and last year's champions Esteghlal Khuzestan needed to avoid defeat against Saba Qom away from home.
Entering the final matchday Siah Jamegan were sitting in the second to last relegation position with twenty-seven points while Saba Qom held a slim one point lead.
The first half was scoreless in Mashhad between Siah Jamegan and Persepolis but things were not looking good due to Saba Qom holding a 1-0 lead against Esteghlal Khuzestan courtesy of a goal scored by Meysam Majidi from the penalty spot.
But we all know that the game of football can have some crazy twists, especially on the final matchday of the Iranian Pro League.
Three minutes after the restart Rouhollah Seifollahi scored a fantastic free kick goal to bring the home supporters to their feet as Siah Jamegan took a 1-0 lead.
Ironically, over in Qom, news spread that Ali Ashouri scored for Esteghlal Khuzestan right before the end of the first half to level the score at 1-1.
The fans in attendance in Mashhad had two reasons to cheer.
Both matches played on and Siah Jamegan continued to stay firm and play tight defense. The Siah Jamegan supporters watched the time tick away but it was hard for them to relax because anything less than a victory would mean relegation.
Stoppage time was approaching and the fans in Mashhad got excellent news as Ali Ashouri scored his second of the match to give Esteghlal Khuzestan a 2-1 lead over Saba Qom.
Siah Jamegan defeated Persepolis 1-0 and Esteghlal Khuzestan beat Saba Qom 2-1. Siah Jamegan survived to stay in the Iranian Pro League by the skin of their teeth for the second consecutive season.
French-Serbian striker Goran Jerkovic – signed on 2 February – played a big part in helping Siah Jamegan stay in the Iranian Pro League with four goals in ten appearances.
"It was a difficult match," said Jerkovic. "But we made it and found a way to win."
This was Jerkovic's second stint in Iran and he has plied his trade playing football in France, Belgium, Lithuania, Thailand, Serbia, Montenegro, and Malaysia.
Jerkovic has established himself as a journeyman in the game of football and it remains to be seen if he will play for Siah Jamegan next season.
Whether or not he comes back, the fans of Siah Jamegan will always appreciate Jerkovic's contribution to the Mashhad based club.
Mission accomplished.